Cotton Blanket (Denim Batts) Insulation - Wisconsin
The Cotton (Blue Jean) Batt Story
From Wikipedia, the free encyclopedia:
"Cotton insulation is increasing in popularity as an environmentally preferable option for insulation. It has an R-value of around 3.7 (RSI-0.65), a higher value than most fiberglass batts. The cotton is primarily recycled industrial scrap, providing a sustainability benefit.

The batts do not use the toxic formaldehyde backing found in fiberglass, and the manufacture is nowhere near as energy intensive as the mining and production process required for fiberglass. Boric acid is used as a flame retardant. A small quantity of polyolefin is melted as an adhesive to bind the product together (and is preferable to formaldehyde adhesives).

Installation is similar to fiberglass, without the need for a respirator but requiring some additional time to cut the material. As with any batt insulation, proper installation is important to ensure high energy efficiency. "
Cotton Batt Advantages
Higher R-Value than typical fiberglass batts.
Recycled content, no formaldehyde or other toxic substances, and very low toxicity during manufacture.
(only from the polyolefin)
May help qualify for LEED or similar environmental building certification programs.
Fibers do not cause itchiness, no cancer risk from airborne fibers.
Introducing Applegate's New Revolutionary Cotton Blanket Insulation
Wisconsin Polyurethane Foam Insulation's new Cotton Blanket Insulation makes going Green easy!
Wisconsin Polyurethane Foam Insulation's innovative new cotton batt has been engineered with a focus on easy installation, being easily torn by hand or cut with a utility knife making it easier to install and work with than other batts. Applegate's cotton batt insulation is sized for standard framing, contains a proprietary next generation fire retardant system, and contains a minimum of 85% recycled content most of which is from recycled denim jeans.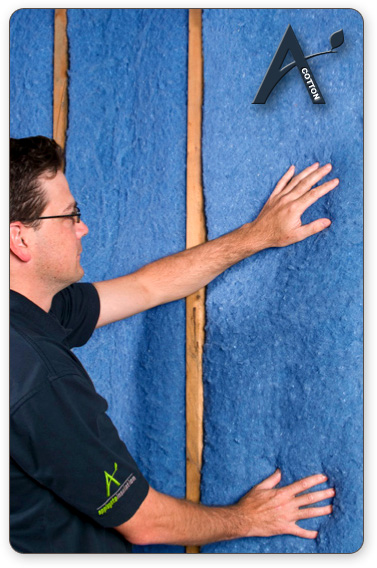 Working with Cotton Batts is rather comfortable and a lot like working in your favorite pair of jeans. Applegate Cotton Batts are right sized for standard framing creating a solid and smooth fit in studs and a fast rebound helps ensure that the full R-value is provided once installed.

Applegate Cotton Batts are designed to simply tear by hand for speedy tool-free installation and the fibers are positioned for easy cutting with a utility knife along it's length; unlike other batts.

Our competitors batts even require specialized equipment or building construction to make full use of them; one competing batt comes with a recommendation for a $600 saw or a $35 knife which requires continual sharpening for cutting their insulation which can erode your margins, and others are mis-sized for standard wood framing or oversized to compensate for a lack of rebound resulting in gaps when the insulation is crammed into the cavity.

With Applegate Cotton Batts, specialized cutting equipment along with time spent on their maintenance, as well as health and sizing concerns are nearly eliminated. You can size our with your hands or a box knife and they give you an exceptionally green way to differentiate yourself from the competition, without adding to your costs!

Applegate's brand new cotton insulation is made in the most technologically advanced production line in Georgia, close to the cotton fields thus reducing their production costs even further.

Applegate Cotton Batts gives you the best of both worlds, 21st century technological sophistication coupled with ancient natural insulating cotton!

Our Batts are the most technological natural cotton batt produced – so if you use batt insulation compare Applegate Cotton Batts against your current batt and see and feel the difference.
More Cotton Batt Advantages
Health
Applegate Cotton Batts do not need any carcinogenic or health-warning labels like some other insulations are required to have.

Applegate Cotton Batts do not contain or release VOCs or other harmful airborne contaminants — helping you breathe nice and easy.

Safety
Applegate Cotton Batts keeps cool during a fire, as they use some of the most advanced materials to be in tip-top shape to keep everyone safe.

Applegate Cotton Batts do not have flammable kraft paper or vapor barrier; and unlike many other insulations, Applegate Cotton Batts contain natural fire retardants to give occupants more time to reach safety during a fire.

You have questions?

We have answers (and free estimates)
Call us anytime at (855) 646-6278 or use our confidential Contact Form and we will reply quickly with the information you need.